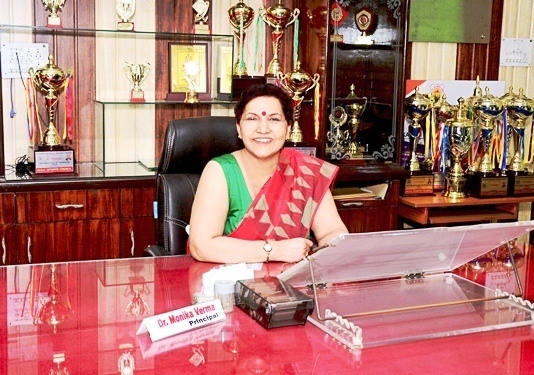 Dr (Mrs) Monika Verma joined this college as Principal on 19th March 2008 , the total strength of college was just 540 students but today more than 2300 students are studying here as the regular students. At present there are 13 PG Courses in Tika Ram PG Girls College. New PG block is constructed. College is also running 11 UG courses.

During the tenure of Dr (Mrs) Monika Vema College has been achieving heights in every sphere. In 2008 college has a few labs but today college has well equipped computer labs furnished with latest technology & Internet facility, Geography lab, Functional English Lab to improve communication skill in English, Physical Education Lab, Physics and Chemistry departments are also renovated and the labs are made more spacious, fitted with the latest gadgets to keep pace with the changing times, the advancing technology & rising number of students.

Principal Dr (Mrs) Monika Vema has attended National Human Rights Conference. She received rave review for her presentations and honoured by an award for excellence. She also attended National Conference for Higher Education organized exclusively for Principals In Pune (Bombay). She has also attended national Seminar held in Khanpur on 18th November, 2011.

It's a matter of pride that under the leadership of Principal Dr(Mrs) Monika Verma, Tika Ram Girls College, Sonepat has successfully hosted Youth Festival of MDU in November 2019. Three National Level Seminars on Diaspora and Indian English Literatureare, Women Right Awarenes: Emerging Treands, Relevance Of Gandhian Ideology in The Contemporary World have been conducted in the College under her leadership.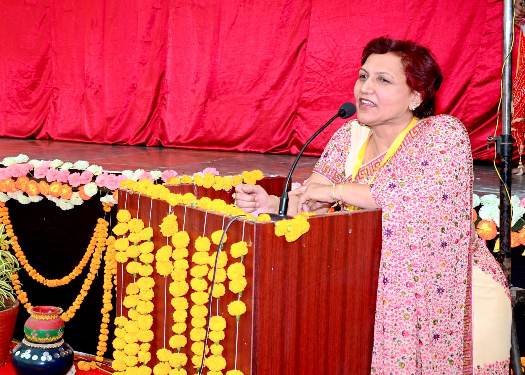 Excellences in academics, Cultural activities & sports have been a custom of the College. College grabbed 360 merit positions in different discipline. In 2008 college have just 3-4 merit position but today College have 360 merit positions which is a big improvement. Keeping the same glorious tradition College has also won different tournaments in Sports. College is also providing bus facilty to the students for easy commutation. This facility is also started under the guidance of Dr (Mrs) Monika Verma.

To ensure a smooth functioning of the College to search and hunt the talents of our young Girls college have various committees. These committees play an active role in the development of the students in discovering their talents and chiseling their skills. These committees organize debates, quiz programs, poetic recitation, declamation contests etc at regular intervals. The college makes all endeavors to impart value based education with a fine blend of tradition and modernity under the guidance of Dr (Mrs) Monika Verma.
Member of Various Committees of MDU Rohtak and District Committees
Nominated as NSS Coordinator of Sonipat District from 03/09/2019 to 02/09/2021

Nominated as Member of Youth Welfare Committee of MDU on 29/08/2019 for the session 2019-20 and 2020-21

Nominated as the member of Sports Executive Board of MDU Rohtak on 29/08/2018 for two years upto 28/08/2020

Nominated memeber of Establishment Committee of MDU Rohtak from 06/06/2018 to 05/06/2020

2nd time Nominated as member of the Academic Council of the University for the period of 2 years from 17 July 2018 to 16 July 2020. Also nominated for the same in the year 2010

Nominated as member of standing committees on unfairmeans cases from 01 May 2018 to 30 April 2019.

Nominated as a member of the Executive Council of the MDU University by, V.C. of MDU ROHTAK, for the period of two years w.e.f. 01.02.2018 to 31.01.2020.

Nominated as a member of organizing committee in Zonal Youth Festival, by V.C. of MDU Rohtak , For The Session of 2015-16 and 2016-17.

Nominated as a member of Inspection Committee regarding grant of extension/ continuation in provisional affiliation in various courses at Shri shanti sager Jain Kanya Mahavidyalaya, Ferozpur Zhirka, Meerut, w.e.f. the session 2015-16.

Nominated as a member of MDU Sports Executive Board by the President MDUSC for the period of 2 years on 24-8-2012.

Appointed as a member of the selection committee to conduct the interview for the post of head master C.R.Z. Senior Secondary School Sonipat on MARCH, 21.2012

Appointed as a Convener of the committee to start a new C.B.S.E. Affiliated English Medium co-educational school vide Managing Committee resolution no.17 dated 19-06-2011.

Selected as state Secretary by Akhil Bharatiya Jaat Mahasabha (Women wing) Haryana on 27-12-2009.

Appointed as a member of Result compilation by M.D.U. Rohtak in Zonal Youth Festival, at KMK Kharkhoda.
Rewards and Recognitions
Invited as Guest Of Honour in PIET Quest 2018 by Panipant Institute of Engineering and Technology, Samalakha, Panipat.

Attended Convocation function in M.D.U Rohtak 13 feb,2018

Chaired the technical session in national seminar on Education for PROMOTING PEACE AND Harmony in society sponsored by D.H.E., Haryana held, on feb 25th 2018 in TR College of Education, sonepat.

Acted as Guest of Honour at the DGHE, Haryana sponsored National seminar on "Current Issues and Challenges of Indian Economy" held on 23rd feb 2018 in C.R.A. College, sonipat.

Acted as a Chairperson at the DGHE, Haryana sponsored National seminar on "Current Issues and Challenges of Indian Economy" held on 23rd feb 2018 in C.R.A. College, sonipat.

Awarded with certificate of Appreciation – for your creative contribution as member of organing Committee of Zonal Youth Festival/Folk Festival, which was organized during session 2014-15, a greened success on 16.3.2015

Attended the meeting on 03.09.2014 in the office of the Secretary MDUSC/Director Sports to decide the venue for hosting the Inter-College tournaments and formation club Committee(s) for various games 2014-15.

Attended as minutes of the meeting of the Maharshi Dayanand University Sports Council which was held on 29-8-2014 at 3:P.M. in Swaraj Sadan.

Awerded by Vishwa Shiksha Samman in Jnternate on al Rajbhasha Sangharsh (Reg.) Delhi on 5th oct 2013.

Awarded by Vishwa Matribhasha Samman through Haryana granth Academy, Haryana Govt. Manthan Art Group (Reg.), sonepat (Haryana) on 21. Feb.2012.

Participated in Capacity Building Program me for Institutional Leaders, at Indian Institute of Education,128/2 J.P. Naik Path. opp. Maruti Mandir, kothreed, Pune 411038 on 17 oct 2011.

Attended the meeting of the Standing Committee on unfair means/mi conduct cases, which was held on 8th-August 2011 in the office of Controller Of Examination, M.D.U. Rohtak.

Under the P.N.D.T. act 1994,as a co-coordinator you have attended the meeting of Task Force Committee in D.R.D.A. Hall on 13.06.2011.

Attended the meeting of the standing Committee on unfair means/misconduct cases, which was held on 19.4.2012 in the office of controller of Examination , M.D.U.Rohtak.

Awarded by Bhartiya Manav Adhikar Sankrashan Sangh on 10.Dec.2011.

Attended the meeting of the Standing Committee on unfair means/misconduct cases, which was held on 1-6-2011 &8-6-2011 in the office of controller of Examination , M.D.U.Rohtak.

As per Haryana Govt. notification No 48/32/2011-4462 dated 25-4-2011 a Task Force Committee is being constituted with the worthy Deputy Commissioner sonepat as chairperson and Chairman Zilla Parishad sonipat and you as a co- chair persion .

Attended the meeting on 28-4-2009 under the convener ship of Professor Suriender Kumar, Dean Academic Affairs in regard to review the admission, treading as well as Examination process of C.P.Ed & B.P.Ed courses being run in various affiliated Collage in MDU University.

Invited as a Chief Guest in TR Model School.
Brief about the duties performed by Dr (Mrs) Monika Verma, Head of the History Department, Arya PG College Panipat
Assistant Co-ordinator IGNOU – Study Centre at Arya PG College, Panipat. Handling all types of ticklish problem of the learner.

Incharge of Women Cell - Organized inter-college fuctions and workshop on the women empowerment and rights of women in present setup.

Awarded by Governor of Haryana – awarded for various women welfare activities and blood donation camps in 2003-2004.

Given Best teacher Award – By Principal and management of College on Teachers day 2005.

Performed duty as Centre, Superintendent – In Degree Colleges, B.Ed College and Physiotherapy & Nursing College.

Convener of STF in 2003 – In Haryana Board Examination. Worked as Convener flying squad many times in University, Examinations.

Writer and Director of Haryanvi Skit – This item gets prize at Youth Festival of Kurukshetra University every year. a. It got first position in the state on Haryana Day Function organized by K.U.K. b. This year also is was recommended in inter zonal youth festival and commended in zonal youth festival.

Awarded for best Judge – Awarded for best judge by Horticulture department and also acted as Judge for state level functions of Haryana Board. Name has been given for University panel for cultural activities.

Convener of Advisory Board and over all incharge of Inter Zonal Youth Festival held at Madlauda from 17th jan to 19th Jan 2008.

Appointed as Co-ordinator – Horticulture department – She was appointed as co-ordinator, horticulture department by S.D.M., Panipat and organized function on 1st March, 2008 at Devi Lal Park, Panipat successfully.

Incharge of Proctorial Board – The discipline of the college is maintained by Proctorial Board.

Incharge of Tour Committee – Organized various Historical cum Educational Tours of Boys and Girls at the College.

Stage Secretary - Acted as stage secretary in youth festival held in Arya College, 2003 and in Madlauda. January 2008.

Convener of convocation – Overall incharge of convocation function every year at Arya PG College Panipat.

Member of Reception Committee – Perform duties as a member of reception committee in every function of college.

Incharge of various types of functions – overall incharge of a. Blood Donation Camp b. Fancy Dress Competition on sports meet & other functions which are held at college time to time

Incharge of Social Science Forum – Organized many functions of the History and Political Science Department. Even Scholars from K.U.K. were also invited to deliver talks.