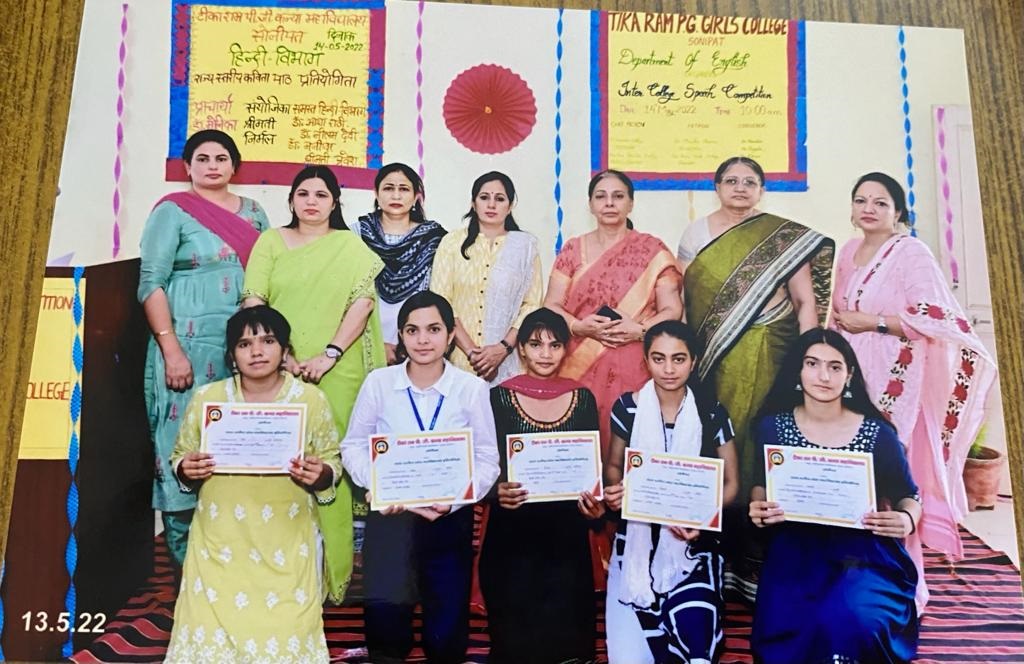 Hindi Department Inter College Competition
14-May-2022
First Position-Vishaka from Tika Ram College Second Position- Anjali from Hindu College Third Position- Mayank from Bharat Vidhyapeeth Consolation Prizes Shivani from Kharkhoda College Pratiksha from P.I.E.T Ridhi from G.V.M
---
Psychology Inter College Competition
14-May-2022
Paper Presentation 1st Position Participant name: Anjali College: T.R.G. College, Sonipat 2nd Position Participant name: Mayank Rana College: Bharat Vidyapeeth College of Education 3rd Position Participant name: Meenu College: H.G.C. ( E2) Consolation 1st Position Participant name: Chakshu College: All India Jat Hero`s Memorial College Rohtak (D1) 2nd Position Participant name: Payal College: Arya Post Graduate College
---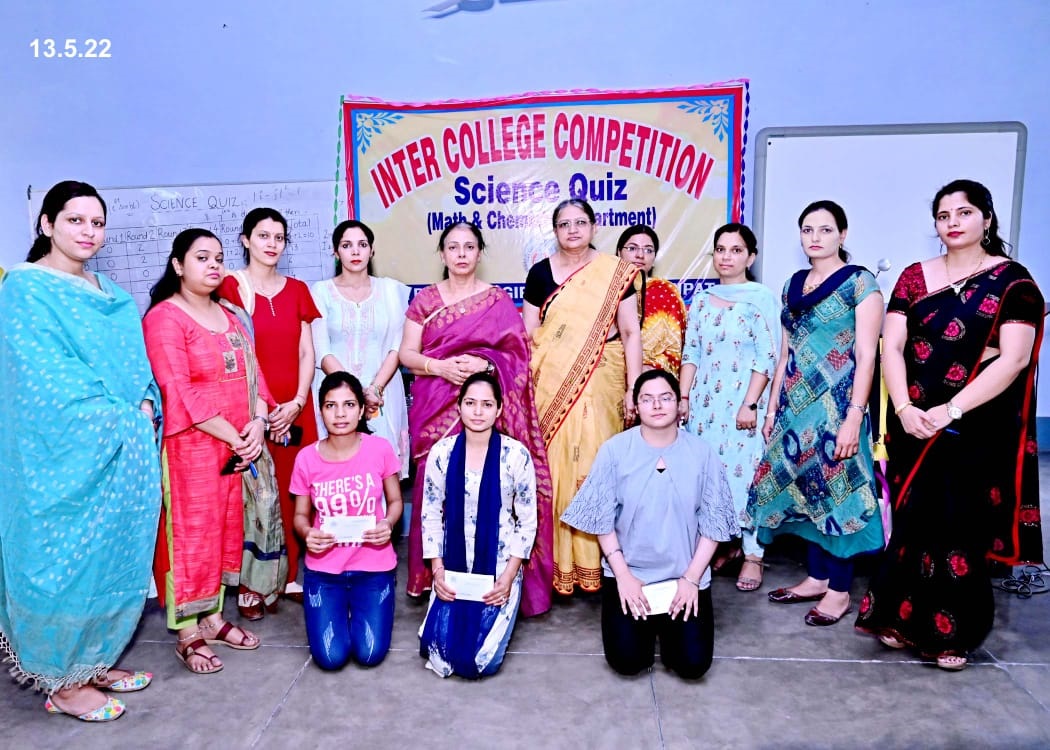 Math and Chemistry Inter College Competition
13-May-2022
Science Quiz 1st position:- Divya Rupanjali Annu From GVM college 2nd position:- Ankush Kaushik Ritika Harshit From CRA college 3rd position:- Harpreet Jyoti Jyoti Nain From Tika Ram PG College
---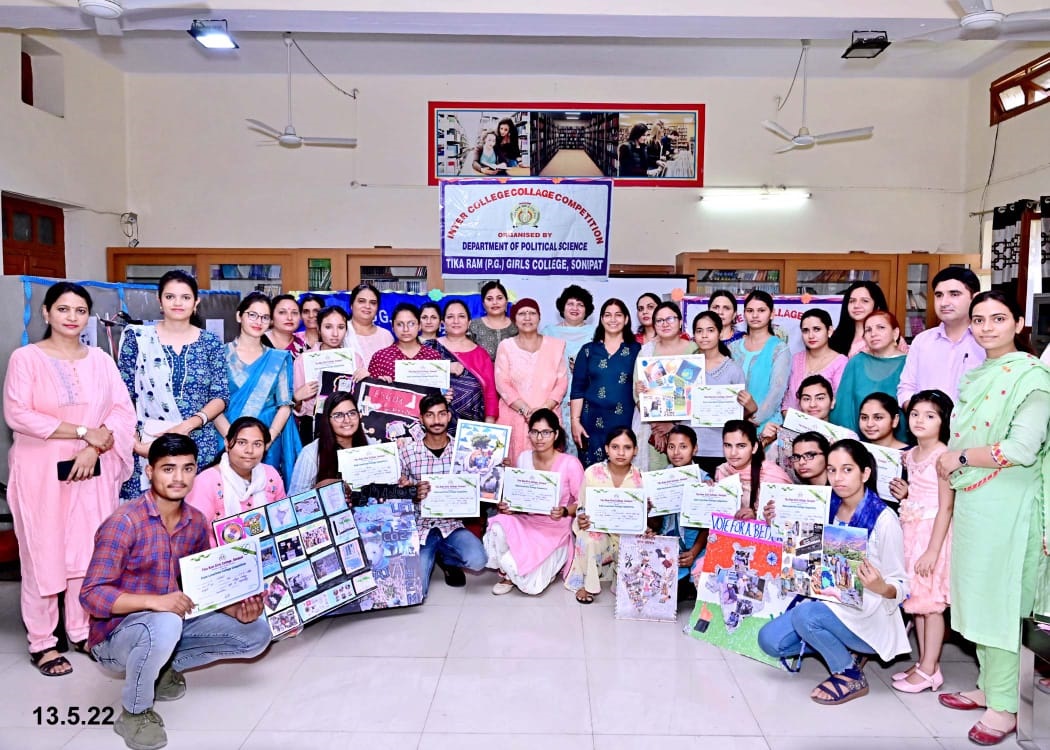 Economics Department Inter College Competition
13-May-2022
Economics department organised Inter College Debate Competition on 14th May, 2022 List of Winners in favour of motion are: 1st- Mansi ( Hindu Girls College, SNP) 2nd- Anita ( C.R.A. College, SNP) 3rd- Rajat Punia ( PIET, panipat) 3rd- Ritu ( G.V.M. Girls College , SNP ) Consolation- 1. Priyanshi ( GATEWAY, SNP) 2. Pooja ( Govt. College for Women , SNP) List of Winners in Against of motion are: 1st- Jattin ( All India Jat Heroes` Memorial College, Rohtak) 1st- Disha ( G.V.M. Girls College, SNP) 2nd- Taniya( Hindu Girls College , SNP ) 2nd- Himanshu (C.R.A. College, SNP) 3rd- Ruchi Gahlawat ( PIET, panipat) 3rd- Nitin Kumar ( Hindu college, SNP) Consolation- 1. Tanvi ( Tau Devi Lal Govt. Girls College, Muthal 2. Annu Dahiya ( T.R.G. College, SNP)
---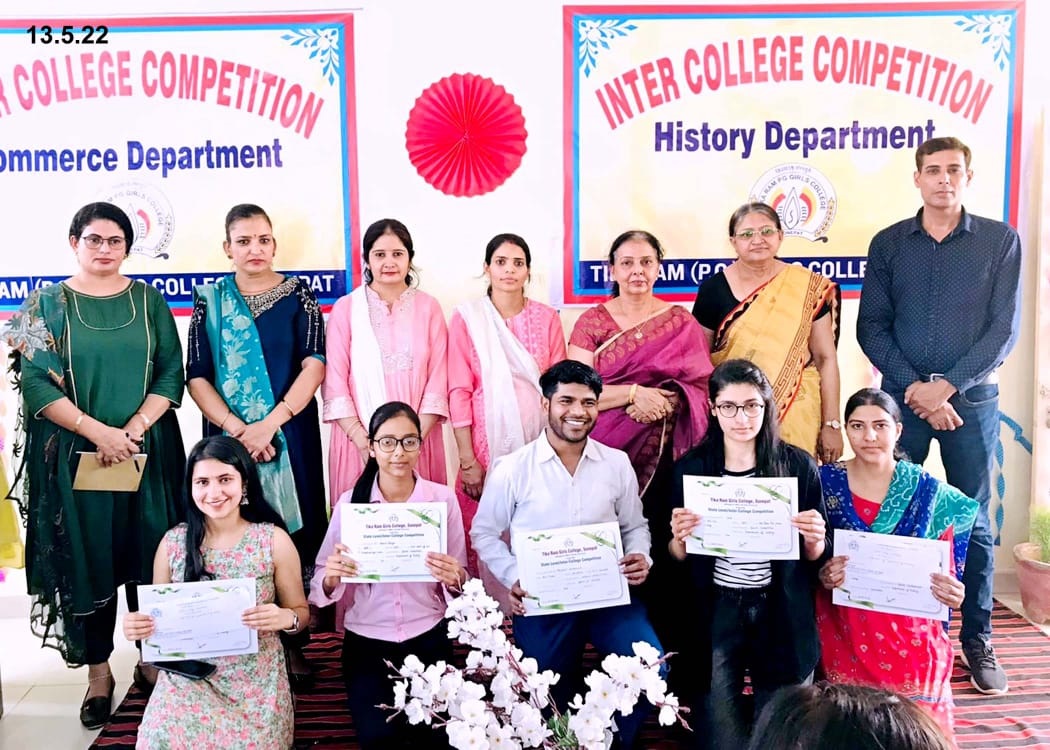 History Department Inter College Competition
13-May-2022
On date 13-5-2022 speech compition organised by history department. 1st position- komal dahiya from GVM IT college sonepat. 2nd position- Sneha from tika ram college sonepat. 3rd position- Prakshit from CRA college sonepat. Consolation 1- Neha from tika ram college sonepat. Consolation 2- Manshi from Hindu Girls College sonepat.
---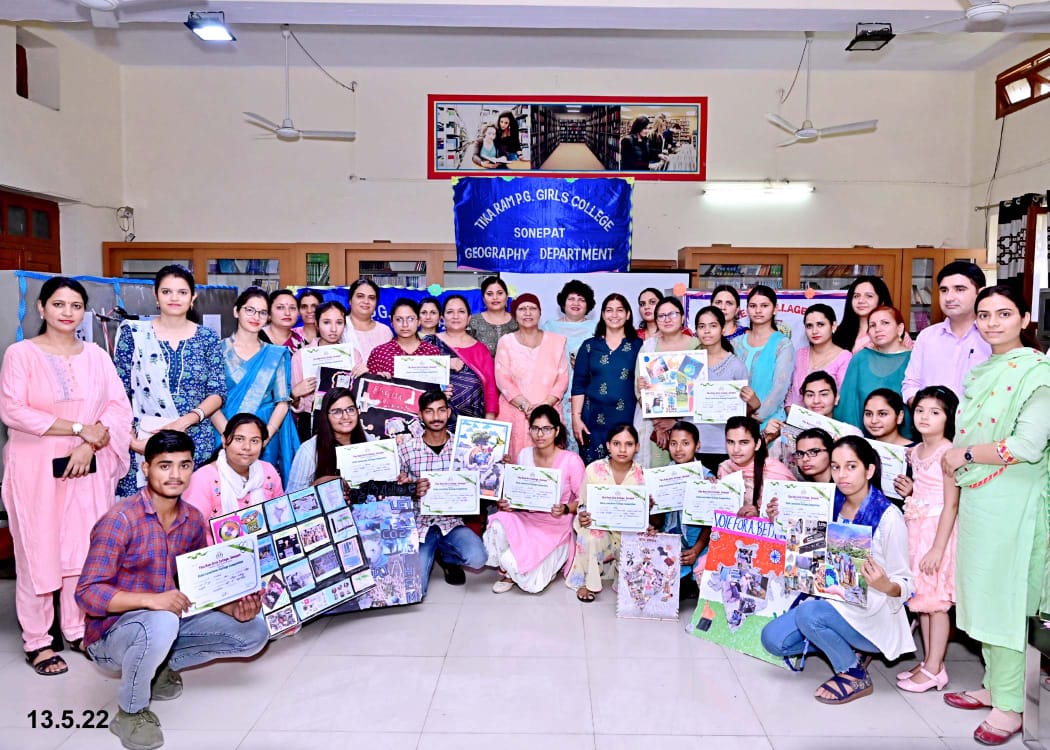 Geography Department Inter College Competition
13-May-2022
Geography department inter college collage making competition 1st prize - Upasna (tika ram girls pg college) 2nd prize - Ranjeet ( shaeed Dalbir singh college, kharkhoda) 3rd prize - Ishika ( kanya mahavidhyalaya , kharkhoda) Consolation - nishant and sachin ( C.R.A college,sonipat) Consolation- sheetal ( gvrt . college for women , sonipat)
---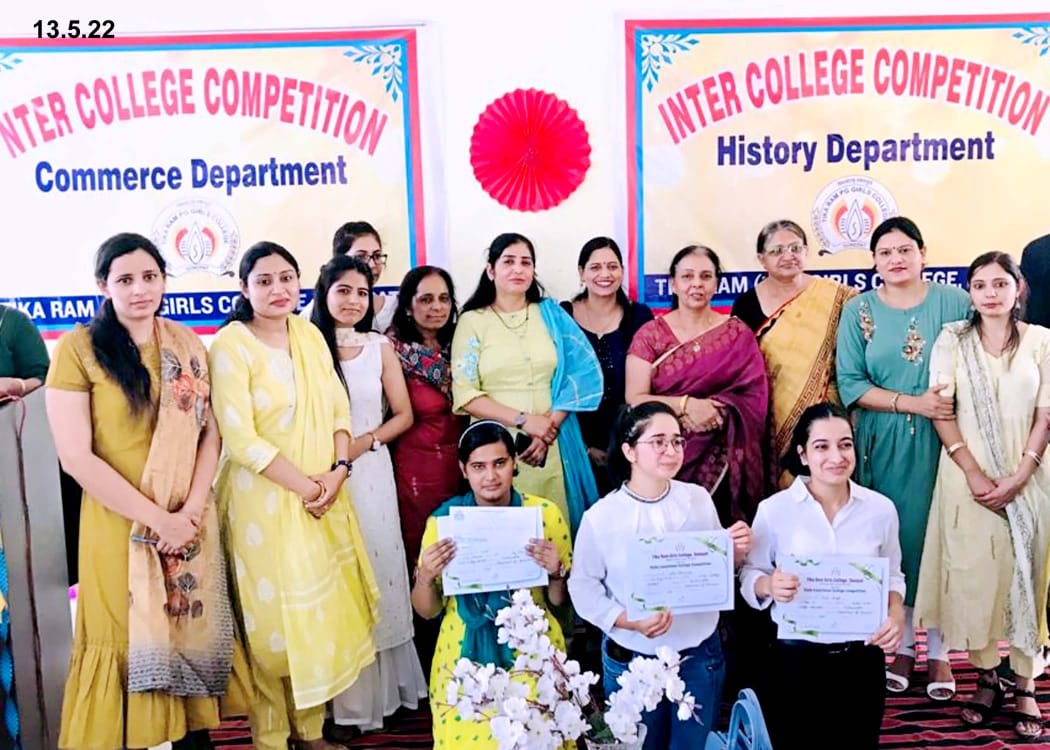 Commerce Department Inter College Activity
13-May-2022
Inter college competition, organised by Department of commerce. Event- Declamation. 1st position holder- Neha Bharadwaj, (Hindu college,Sonepat). 2nd position holder-Kirti ( Tika Ram Girls College, Sonepat). 3rd position holder-Aditi Singh ( Hindu Girls College, Sonepat). Consolation prize-Nikita ( Vaish Arya Kanya mahavidyalay Date of event - 13th May 2022
---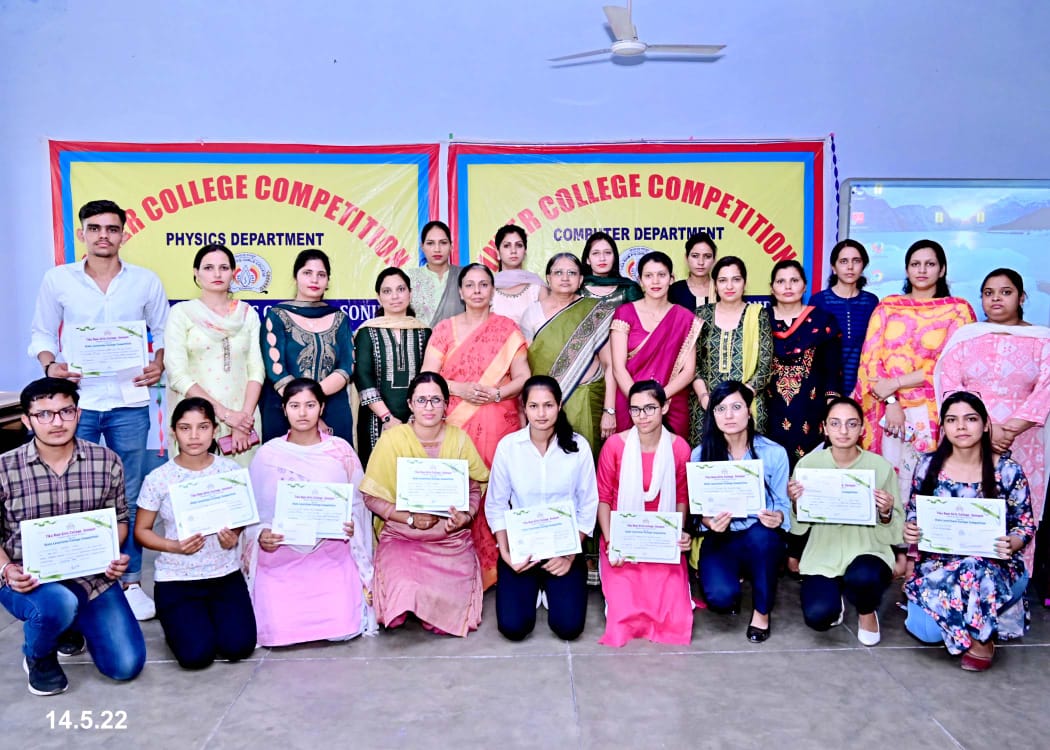 Computer Department Inter College Activity
13-May-2022
1st - Shruti - Hindu girls college 2nd - kavita - vaish Arya sikshan mahila maha vidayalya b.garh 3rd - Neha - tika ram pg girls college sonipat Consolation - 1) sajjan singh - all india jat heroes memorial college,rohtak 2) ginni,Manisha - GVM Girls college
---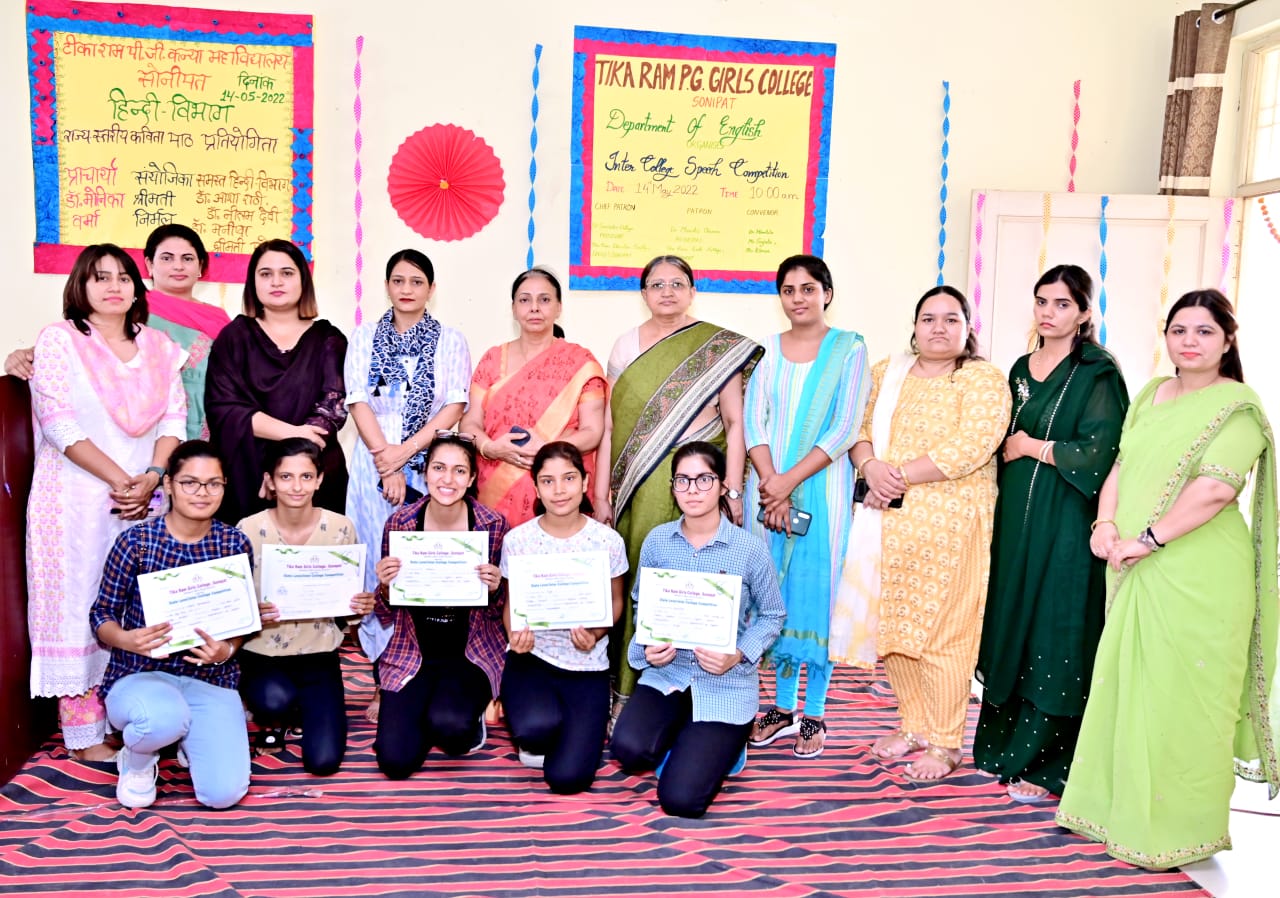 English Department Inter College Activity
13-May-2022
An inter college speech competition was organised on 14th May 2022 in which Heman a student of B.Sc 3rd yr from AI Jat college Rohtak got 1st position , Nisha a student of B.A 1st English Hons from TRG college Sonipat got 2nd position, Bhumika of B.Sc N.M 2nd yr from Govt college Gohana got 3rd position, Riya of B.Sc Non Med 3rd yr from GVM college Gohana and Ridhi of B.A3rd Eng Hons from TRG college got consolation prize.
---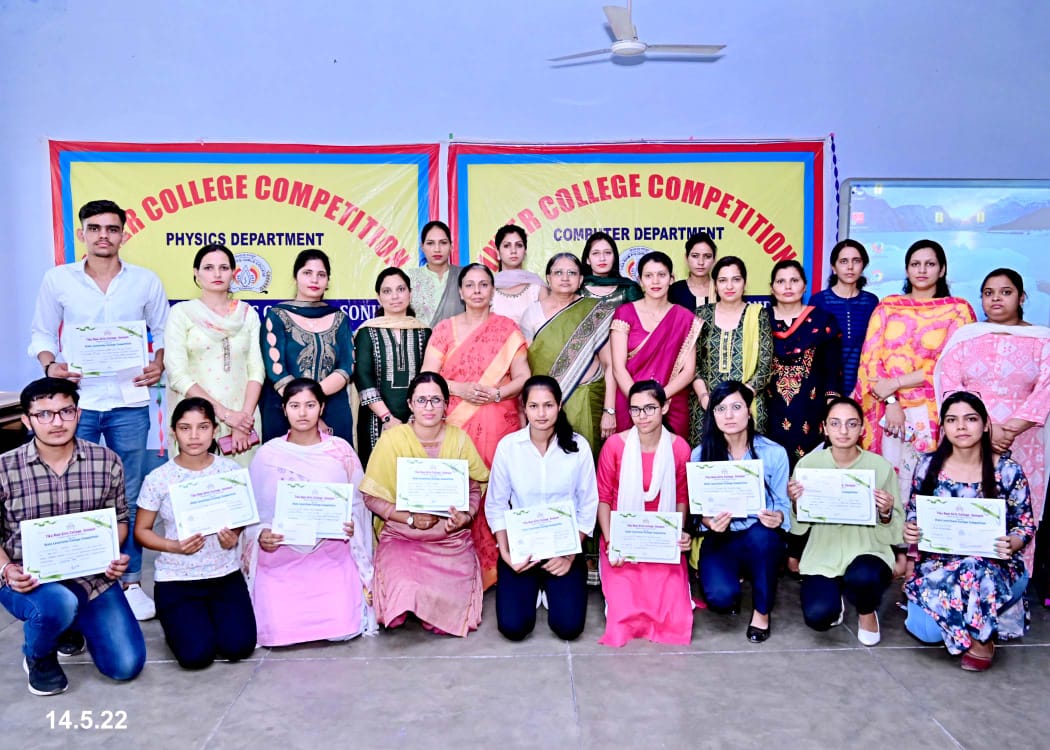 Physics Department Inter College Activity
13-May-2022
1st - riya gvm 2nd -dipika tika ram 3rd - adarsh malik Dcrust unversity Consolation prize - muskan IPcw college Consolation prize - Tanuja Hindu college
---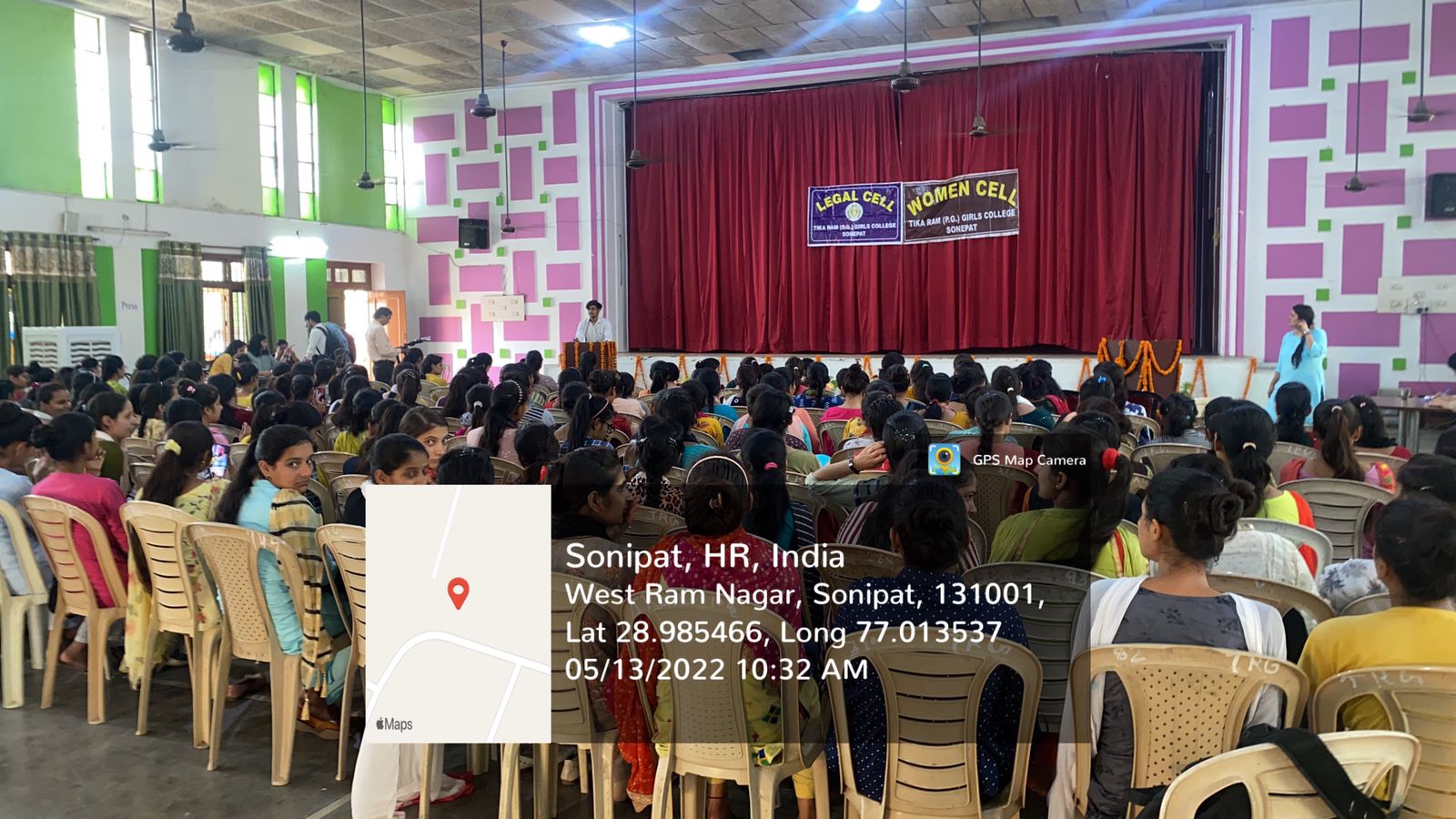 Women Cell and Legal Cell Department Inter College Activity
13-May-2022
Women cell and legal cell organised declamation contest on 13.05.2022
---